PAWS ILLINOIS, NFP
---
MAKE A DONATION USE THE DONATE BUTTON TO CONNECT TO PAYPAL.
(SEE WHAT PEOPLE ARE SAYING ABOUT PAWS ILLINOIS AT BOTTOM OF PAGE)


PAWS ILLINOIS IS OPERATED BY ALL VOLUNTEERS NO SALARIES ARE PAID.

We operate strictly through donations and fundraising. All monetary donations go towards supporting our cause. Every donation, no matter how small, helps! 100 percent of donations collected by PAWS ILLINOIS go directly to helping shelters & rescue groups with food, Veterans, families with pets in need and our spay/neuter program.

Paws Illinois receives no operational funding from any government or national humane society, so we rely heavily on the public's support. Please keep those donations coming and show us your support!
Please click on the DONATE link above to make a secure credit card donation!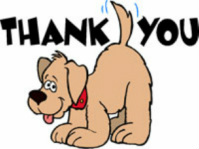 Donations can also be made by mailing a check, made payable to:




PAWS ILLINOIS, NFP
P.O. Box 2442
Bridgeview, IL 60455
---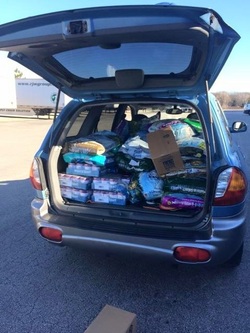 Lisa Anderson
Dogs are Deserving Rescue
Once again PAWS of Illinois NFP and Natural Balance has provided Dogs are Deserving Rescue with a way to feed our pooches for the howlidays and then some!!!!
So many rescues count on the generosity and helping hands of people and organizations like this to keep going.
Because of their continued support the wonder of how we will keep our foster pooches fed is one less thing a rescue has to worry about.
They not only help out local rescues...they also help provide pet food to families who are struggling financially and need assistance feeding their family pets. This helps the family hold onto their pets and keep the family together rather than having to make that agonizing decision of surrendering their pets to a local shelter because of lack of funds to feed them.
Less animals in the shelter and in loving homes sounds like a win win to me!

On behalf of Dogs are Deserving Rescue I would like to send a GINORMOUS THANK YOU to Michael Tellerino and all the volunteers at PAWS of Illinois NFP who donated their time today and ran the food distribution so efficiently!!
Special thanks to Regina Zgak Lattuca for taking the time to answer all my crazy questions last night!!
Sorry I missed you today!!
If anyone is looking for an organization to donate a little something before tax time please consider PAWS OF Illinois NFP!!
Helping them helps soooo many others!!

http://www.pawsnclawsil.org
---
WHAT PEOPLE ARE SAYING ABOUT PAWS ILLINOIS, NFP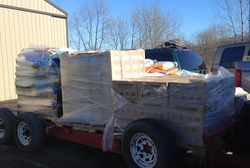 ALL THOSE DOGS LEFT BEHIND RESCUE, Inc.·
Wow Christmas is here!!!!! Some super awesome people at PAWS ILLINOIS are very generous to help out rescues like us and were able to donate all this food and treats to our rescue, we just had to pay a very small transportation cost. For the cost of just a few bags of food and boxes of treats we were able to get 5 huge pallets full of stuff for all the animals in our rescue to feed them for a couple months instead of weeks. A huge big thanks to Michael and Reggie from PAWS ILLINOIS who set this up for us and made Christmas a whole lot better this year for the animals!!!! We said our prayers asking for enough good quality food for the animals and our miracle came true! You guys and all of your volunteers are the best!!!!!!! Everyone please go to their Facebook page and LIKE them (PAWS ILLINOIS.) They help out many 501c3 not for profit rescues and they help people who need personal financial assistance for veterinary care and food for their animals. They truly are some good hearted people who do care a lot!
---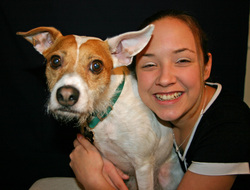 Angelica Staniszewska
5 star Love these guys! They helped out my organization Chicago Animal Advocates when we were in dire need of cat food. Doing AMAZING work for animals and the community!! Hope to keep working with them in the future!
Max Riggio reviewed PAWS Illinois NFP — 5 star ·
From the moment I reached out they (mike) have been great in helping my family and I spread the word for a puppy we found in our back yard. The pup ("Olaf" kids named) needs surgery on his hip that is dislocated so my wife and i set up a fund to raise money. Soon as we get what we need he will get the surgery he needs. We made all efforts to find owners with no luck so he is now part of our family. He now has a forever home.Cindy Sanders reviewed PAWS Illinois NFP — 5 star
I just wanted to say thank you so much to Paws Illinois for helping my friend with her dog Chula and her 8 pups. My friend just had surgery and was trying to take care of herself, her ailing husband and her dog with 8 new pups. At first mom was feeding the puppies just fine and then stopped. My friend tried feeding them milk and encouraging the mom to let puppies nurse but it wouldn't work and was becoming so stressful. With her husband's upcoming surgery and her own pain she just didn't know what to do and couldn't afford to keep up with this great responsibility. I contacted my friends Reggie and Michael from Paws Illinois and they immediately came to the reschey drove all the way to my friend's home about 40 miles away and picked up the mom and her 8 beautiful babies. My friend was so grateful knowing they would be well taken care of and found good loving homes . Thank you so much guys for being such a blessing to so many people including helping me and feeding my 4 babies we don't know what we would do without you. Much love Cindy.

Lisa Zurita reviewed PAWS Illinois NFP — 5 star
Paws N Claws is AMAZING! I have a friend going through a very bad time in her life and Paws Illinois has helped her so much. During this very hard time, her animals are her greatest comfort and Paws Illinois has given her food and toys for her animals. She is in a terrible financial situation and this has helped her so much. Please support this fantastic organization so people can keep their pets during their crisis as we all know what a comfort our animals are. The people in Paws Illinois have been so nice to my friend and helped her to smile again.
Karen Sapoznik reviewed PAWS Illinois NFP -- 5 star
Paws Illinois is the only NFP organization that I know of that will help animals and the families who have animals feel safe and secure. Giving food and vet check ups to families going through rough times. I am a animal lover and I envy everything you do to raise money to help the families who love their pets but have hard times supporting them. Keep doing what you're doing. My heart is with you
.
---